Shami Kabab
Rating: 4/5 - Votes: 6 - Views: 44041
Shami Kebab drive their name from Syria. Usually served as a side dish with other main course or parathas.This pan-fried kabab can be made with lamb or beef or chicken. Serve it with Mint-Coriander Chutney.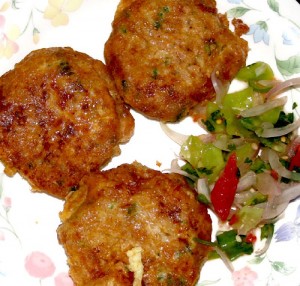 ---
Total servings:
4-5
Calories:
Pre-Prep time:
30 min
Preperation time:
10-15 min
Occasion:
Any
Cuisine:
Pakistani
Effort:
Easy
Best for:
All
How to serve:
Hot
---
Ingredients:
Boneless beef 1 kg,
Channa daal 1/2 cup,
Cinnamon stick 1,
Large black cardamon 1,
Whole black peppers 8,
Dried red chillies whole 10,
Medium onion 1,ginger 1'' piece ,
Garlic 6 cloves.
Garnish:
Onions 2 small cubes/chopped, corriander leaves, geen chillies, mint leaves.
egg 1 or 2(optional)
Preparation:
Boil beef cubes with all the ingredients except the garnish ingredients.
When the meat is very tender and the water dries up grind it finely.
Add the garnishing ingredients and make flat round patties.
Shallow fry it.
Serve hot with your choice of chutney or sauce.