Qandhari Koftay
Rating: 3.5/5 - Votes: 6 - Views: 28094
Delicious Mince Kofta cooked in a gravy made with spices, cream and tomato puree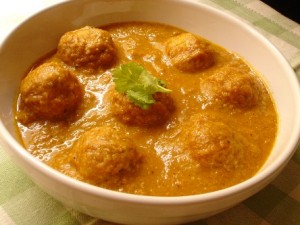 ---
Total servings:
3-4
Calories:
Pre-Prep time:
15 min
Preperation time:
45 min
Occasion:
Eid-ul-Adha
Cuisine:
Pakistani
Effort:
Average
Best for:
All
How to serve:
Hot
---
Ingredients:
Minced beef 1/2 kg
Cinnamon powder 1/2 tsp
Onion finely chopped 2 for gravy, 1/2 cup onion finely chopped for koftas
Ginger/Garlic paste 3 tbsp
Coriander powder 1 tsp
Red chilli powder 1 tsp
Tomato puree 1/2 cup
Powdered cashews(optional) 1/4 cup
Hot spices powder 1 1/2 tsp
Cream 1/2 cup
Egg Whites 3
Roasted gram flour 2 tbsp
Oil 3 tbsp
Salt to taste
Preparation:
Blend together minced meat, salt, cinnamon, 1 egg, 1/3 cup chopped onions, ginger garlic paste and gram flour.
Make small balls. Heat oil in a pot and fry onion till golden brown.
Spread on newspaper till crisp. Crush with hands and put in pot.
lightly fry ginger/garlic paste in it. Add red chillies, coriander, tomatoes and cashews and fry.
When gravy is ready, add a cup of water and allow to cook.
Bring to boil and add koftas.
Hold the pot and gently move from side to side. Add hot spices.
Add cream and remove from flame.
Garnish with fresh corriander leaves and serve Qandhari Koftas with hot naan or roti.