Popcorn Chicken
Rating: 4/5 - Votes: 21 - Views: 53990
This is my family favorite quick snack, kids love it too!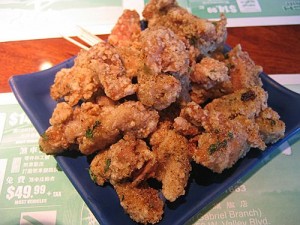 ---
Total servings:
4-6
Calories:
Pre-Prep time:
Preperation time:
15-20 mins
Occasion:
Ramadan
Cuisine:
American
Effort:
Easy
Best for:
All
How to serve:
Hot
---
Ingredients:
1 lb. boneless chicken breast
1 cup plain flour
1/2 cup self rising flour
1 tbsp black pepper
salt (to taste)
Preparation:
First cut chicken into small bite size pieces.
Add salt and pepper. Add self rising flour.
Now add about 2 tablespoons water. Mix well.(you should have a thick batter) In a seperate bowl add plain flour, salt, & pepper. (If you want chicken to be spicy you can add red pepper and garam masala to taste!)
Now take chicken and coat in the plain flour mixture, one piece at a time.
Deep fry til golden.(about 5 mins) Enjoy with ketchup chutney or hot sauce.
It's delicious...........