Matar Cutlets
Rating: 5/5 - Votes: 2 - Views: 14339
It is definitely a healthy snack and could be made easily in no time.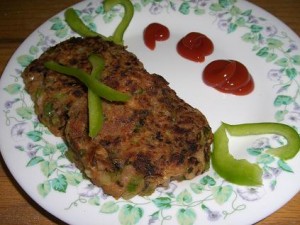 ---
Total servings:
3-4
Calories:
Pre-Prep time:
Preperation time:
30 min
Occasion:
Ramadan
Cuisine:
Pakistani
Effort:
Easy
Best for:
All
How to serve:
Hot
---
Ingredients:
Mashed peas (matar) 1 cup
Eggs 1 no.
Chopped coriander leaves 1 tsp.
Finely chopped green chilies 1 tsp.
Potatoes ½ kg.
Finely chopped ginger 1 tsp.
Finely chopped onions 1 no.
Bread crumbs 1 cup
Oil To fry
Salt To taste
Preparation:
Mix thoroughly the boiled potatoes, green chilies, coriander, onions, mashed
peas and salt.
Shape the cutlets. Break an egg.
Dip the cutlets in the egg and then roll it in the bread crumbs.
Deep fry in pre-heated oil.
Serve hot.
Note : Cornflour could be used as a binding agent instead of eggs.