Malai Mutter Paneer
Rating: 4/5 - Votes: 3 - Views: 30103
A dish consisting of paneer (cheese) and peas in a sweet and spicy sauce. It is similar to Palak Paneer.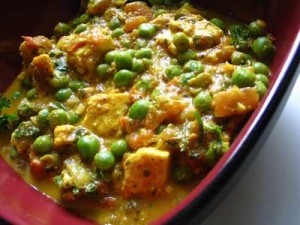 ---
Total servings:
3-4
Calories:
Pre-Prep time:
Preperation time:
Occasion:
Any
Cuisine:
Indian
Effort:
Easy
Best for:
All
How to serve:
Hot
---
Ingredients:
1 packet paneer
2 cups frozen peas
cup light cream
Handful of broken cashews
Chopped coriander
2 tbsp tomato paste
2 red onions
1 tbsp gingergarlic paste
1 tbsp khuskhus
1 tsp masala powder
3 elaichis
red chili powder
Preparation:
Grind the ingredients from 6 to 12 in a food processor.
In a saucepan,add 3 tbsp of oil and add some cumin.
Then add the paste from the food processor.
Cook for about 10 minutes till all the water evaporates.
Now add the peas,cover and cook for 5 minutes.
Meanwhile cut the paneer into 1 inch cubes.
Fry the cashews in little ghee.
Add cream to the saucepan and cook for 15 minutes.
Now add the paneer,cashews,chopped cilantro and salt to it.
Mix well and heat up.