Macaroni With Cheese
Rating: 5/5 - Votes: 1 - Views: 13323
A classic macaroni salad recipe made with chopped vegetables and cheese, along with seasonings...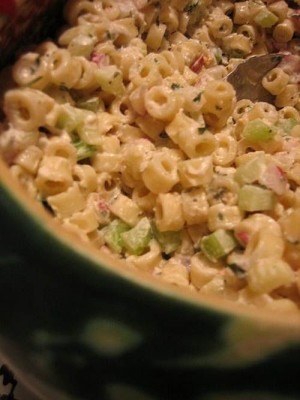 ---
Total servings:
4
Calories:
Pre-Prep time:
15 min
Preperation time:
20 mins
Occasion:
Any
Cuisine:
Chinese
Effort:
Easy
Best for:
All
How to serve:
Hot
---
Ingredients:
Carrot 1(diced in small pieces)
Capsicum 1(diced in small pieces)
Tomato 1(diced in small pieces)
Spring onion 1(in small pieces)
Four pieces of chicken(boiled with pinch of salt and shredded)
Ginger garlic paste 1 tbsp
Macaroni 1 packet boiled
Slices of cheddar cheese
Salt,red chilli powder,blckpepper pwdr 1tsp
Turmeric pwdr apinch
Soy & chilli sauce 1tbsp
Preparation:
In a pan, heat a little bit of oil
Add ginger/garlic paste.
Add the shredded pieces of chicken.
Stir for some while.
Then add the following spieces to it.
Salt, Red chilli powder and black pepper 1 tsp
Turmeric powder, a pinch
Stir well for some time.
Now add the vegetables you had cut earlier.
Stir.
Add 1 table spoon of soya sauce and chilli sauce.
Separately boil the macaroni earlier. Now add it to the chicken mixture
Mix well.
Allow it to cook for some time.
Turn off the fire.
Now grease a pan, add this chicken and vegetable mixture.
Top with thin slices of cheddar cheese.
Put it in a pre heated oven till the cheese melts on top of the macaroni.
Take it out and serve.