Fried Seekh Boti
Rating: 3.5/5 - Votes: 3 - Views: 17723
Marinated Mutton and potato cubes skewered, coated with bread crumbs and deep fried.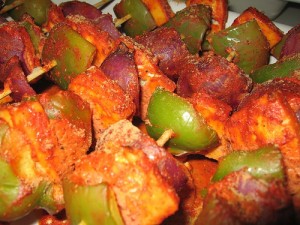 ---
Total servings:
4-5
Calories:
Pre-Prep time:
Preperation time:
1 hr
Occasion:
Any
Cuisine:
Pakistani
Effort:
Average
Best for:
All
How to serve:
Hot
---
Ingredients:
Mutton, parboiled & cut into cubes ½ kg.
Potatoes, parboiled & cut into cubes ¼ kg.
Onions, parboiled & cut into cubes ¼ kg.
Turmeric powder 1 tsp.
Curry powder ¼ tsp.
Pepper ¼ tsp.
Chili powder ¼ tsp.
Breadcrumbs As required
Eggs, beaten 4 nos.
Ghee As required
Salt 1 tsp.
For the masala
Garlic 8 cloves
Ginger 1" piece.
Coriander leaves ¼ bunch
Green chilies 4 nos.
Preparation:
Cut the meat, potatoes, onions into cubes.
Grind all the ingredients of masala together and mix it with the other
powdered spices.
Add the cubed potatoes, meat & onions to this mixture and marinate for 2
hours.
Thread these pieces on a skewer, roll in breadcrumbs, dip in beaten egg and
deep fry in ghee.
Serve hot with chutney or sauce.