Corny Potatoes
Rating: 5/5 - Votes: 2 - Views: 19978
Mouthwatering preparation of potato jackets stuffed with corn and baked in the oven topped with cheese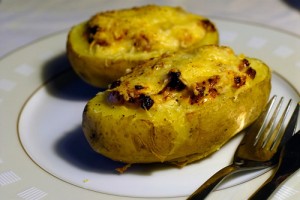 ---
Total servings:
4-5
Calories:
Pre-Prep time:
Preperation time:
1 hr
Occasion:
Ramadan
Cuisine:
Pakistani
Effort:
Easy
Best for:
All
How to serve:
Hot
---
Ingredients:
Potatoes(medium sized) 8 nos.
Chopped onions ½ cup
Chopped garlic 1 tbsp.
Corn ½ cup
Chopped coriander 1 tbsp.
Chopped Celery 1 tbsp.
Paprika powder a pinch
Butter 60 gms.
Milk ½ cup
Wheat flour 1 ½ tbsp.
Fresh cream ¼ cup
Grated cheese 30 gms.
Black pepper powder ½ tsp
Oil 2 tbsp.
Salt To taste
Preparation:
Wash the potatoes with the skin and wrap in silver foil.
Preheat the oven to 200 degrees. Keep the potatoes in the preheated oven for
30-40 minutes or till cooked.
Remove a small bit of paper and skin from the top. Make a hole in the potato
by scooping out some potato from the centre.
Heat butter in a pan.
Add chopped onions, chopped garlic and chopped celery.
Saute till golden brown.
Add corn and sauté for 3-4 minutes.
Add wheat flour and stir.
Add cold milk and stir continuously.
Add salt, black pepper powder and paprika powder.
Add coriander and finally add the fresh cream.
Stir well and allow it to cool.
Once it is luke warm, put this mixture in the hollow potatoes and top it with
grated cheese.
Bake in the oven till cheese is golden brown.
Serve hot.