Cheese And Macaroni Cutlets
Rating: 3.5/5 - Votes: 8 - Views: 38132
Macaroni and cheese is all time favorite comfort food, n this quick n easy recipe will add taste to ur Ramadan menu.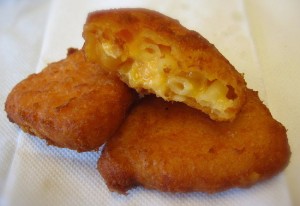 ---
Total servings:
4-6 persons
Calories:
130 Kcal per serving
Pre-Prep time:
Preperation time:
10-15 minuts
Occasion:
Ramadan
Cuisine:
Italian
Effort:
Average
Best for:
All
How to serve:
Hot
---
Ingredients:
100 gms Mozzeralla Cheese.
100 gms any kind or size Macaroni.
1 med size Green Onion.
3 to 4 Green Chilli.
1/2 a cup Mint Leaves.
Black pepper to taste.
Salt to taste.
1 cup Corn Oil.
1 tea sp Lemon juice.
1 small Red Onion Chopped.
2 Eggs
bread crumbs 1 to 2 cups.
Preparation:
In hot boiling water add macronies and boil until it becomes over sized.
Crush Mozzarella cheese and add to macaroni.
Chop all other ingredients and put it in to the mixture of cheese and macaroni.
Make small any size of cutlets and keep it in the refregerator for about ten minutes.
Then dip the cutlets into the well beaten Eggs and cover it with Bread crumbs and fry until it becomes golden brown.
Serve hot with chilli garlic sauce.Enjoy