Vermicelli And Meat Ball Soup
Rating: 3.5/5 - Votes: 3 - Views: 14797
A warming noodle soup recipe in which noodles simmer away in a freshly pureed tomato broth to give this soup outrageous flavor. The meatballs are simply seasoned and fried separately in oil which later gets mixed into the tomato broth to finish the soup.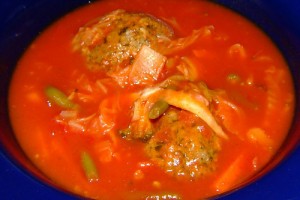 ---
Total servings:
3-4
Calories:
Pre-Prep time:
Preperation time:
40 min
Occasion:
Any
Cuisine:
Pakistani
Effort:
Easy
Best for:
All
How to serve:
Hot
---
Ingredients:
500 gms. cabbage, shredded
60 gms. vermicelli
3 cups each of chicken stock and tomato juice
salt and pepper to taste.
For Meat Balls :
250 gms. minced mutton
3 tbsp. minced onion
tsp. minced ginger
1 egg
1 tsp. brandy
salt to taste.
Preparation:
Mix all the meat ball ingredients together.
Knead to a smooth mixture, form into small balls and deep fry to a golden brown colour.
Fry vermicelli in a little oil to a golden colour.
Bring stock and tomato juice to boiling point, add salt and cabbage and cook till the cabbage is almost done, put in the balls and boil for 2 mins.
Sprinkle pepper and vermicelli on top and serve immediately.