Tandoori Jhinga (Prawns)
Rating: 5/5 - Votes: 3 - Views: 19185
Prawns are marinated in a mixture of yogurt and spices cooked to make this delicious seafood dish.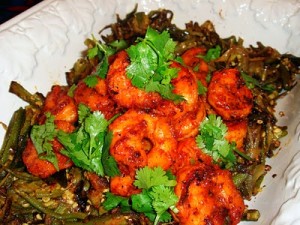 ---
Total servings:
2-3
Calories:
Pre-Prep time:
30 min
Preperation time:
15 min
Occasion:
Any
Cuisine:
Pakistani
Effort:
Easy
Best for:
All
How to serve:
Hot
---
Ingredients:
250 gms prawns
1 tsp cummin seeds roasted and ground
4 tbsp yoghurt
1/2 tsp all spice
1/2 tsp Ginger / Garlic paste
Dash of Orange / Red food colour
2 tbsp lemon juice
1/2 tsp red chillly powder
2 tsp salt
50 gms butter
1/2 tsp black pepper
Preparation:
Shell, devein and clean the prawns.
Mix all the ingredients except the butter to make a marinade.
Put the prawns in the marinade covering them all over.
Set aside for 30 minutes.
Melt the butter in a frying pan.
Put the marinade without the prawns into the butter.
Stir and fry for a few minutes until the butter seperates then gently put the prawns into the frying pan and stir carefully.
Cook for a few minutes till the prawns are ready.
Do not overcook the prawns.