Samosas
Rating: 3/5 - Votes: 13 - Views: 61259
Samosas are the most popular tea time snack. They are very handy to have around and delicious to eat. Try this easy recipe and have this yummy snack on your table right away.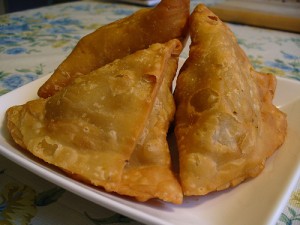 ---
Total servings:
7
Calories:
Pre-Prep time:
Preperation time:
15-20 min
Occasion:
Any, Ramadan
Cuisine:
Pakistani
Effort:
Average
Best for:
All
How to serve:
Hot
---
Ingredients:
1 cup white flour
1 cup whole wheat flour
Clarified butter (Ghee) for frying
1 Onion, finely chopped
1 Tablespoon ginger, very finely chopped
1 Cup ground meat
2 Tablespoon peas
1 Teaspoon freshly ground coriander powder
1 teaspoon freshly ground cumin
1 teaspoon Garam Masala
1 Tablespoon fresh Cilantro, chopped
1 large potato, boiled, peeled and mashed
2 teaspoon lemon juice
Salt to taste
Preparation:
Sieve the flour with a pinch of salt.
Work in 2 Tablespoon of the butter, then add enough water (about 3 Tablespoon) to make smooth dough.
Knead for a few minutes, cover with a damp cloth and set aside.
Fry the onions in 2 Tablespoon butter.
Next, stir in the ginger, ground meat, peas, spices, and salt to taste.
Fry for two minutes.
Add the potato and lemon juice, and fry for a few minutes more.
Cool this mixture.
Meanwhile, knead the dough again, divide it into small balls, and roll each one out until it is quite thin.
Cut the pieces in half and lay one part on top of the other.
Presses lightly, then roll the pieces into very thin semicircles.
Put a portion of the filling on one half of each pastry piece, moisten the edges with water, and fold the other half over.
Press the edges together well with a fork, then deep fry in butter until crisp and golden.
Serve warm, with mint chutney or lemon pickle.