Rice Pakora
Rating: 4/5 - Votes: 6 - Views: 22435
It is a dish that can de prepared in minutes if you've cooked rice in hand. Try and Enjoy!!!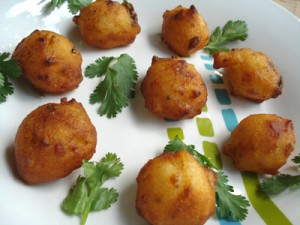 ---
Total servings:
2-3
Calories:
Pre-Prep time:
Preperation time:
30 min
Occasion:
Any
Cuisine:
Pakistani
Effort:
Easy
Best for:
All
How to serve:
Hot
---
Ingredients:
Gram flour 60 gms.
Boiled rice 2 cup
Chopped green chili 1 tsp.
Chopped green coriander 1 tsp.
Chopped onion 1 tsp.
Chopped ginger 1 tsp.
Chaat masala 1 tsp.
Oil for deep frying -
Salt As per taste
Preparation:
Mix all the above ingredients except oil. Add about 1/2 cup of water to make a
thick batter.
Heat oil in a Kadhai to a moderate heat.
Spoon the batter with a tablespoon, into hot oil and deep fry till light golden
brown
Drain on a paper towel to remove excess oil and fry once again in very hot oil
briefly.
Serve hot with chutney of your own choice.
For this recipe you may also use leftover cooked rice.