Qeema Matar
Rating: 4/5 - Votes: 2 - Views: 32301
A lovely, deeply flavoured dry curry dish with a pleasant addition of Matar in vegetables.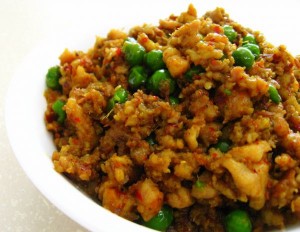 ---
Total servings:
4-6
Calories:
Pre-Prep time:
Preperation time:
45 minutes
Occasion:
Any
Cuisine:
Pakistani
Effort:
Average
Best for:
All
How to serve:
Hot
---
Ingredients:
4 table spoons vegetable oil
75g (3oz) onions, peeled and finely chopped
6-7 medium sized garlic cloves, peeled and finely chopped
750g (1 1/2 lb) minced lamb (minced beef can be substituted)
2.5cm (1 inch) cube fresh ginger, peeled and grated to a pulp
1-2 fresh, hot green chillies, minced
1 teaspoon ground coriander
1 teaspoon ground cumin
1/4 teaspoon cayenne pepper
300 ml (10 fl oz) water
175-200g (67oz) shelled peas
4-6 heaped tablespoons chopped, fresh green coriander
1 1/4 teaspoon salt
1 teaspoon garam masala
1 1/2 tablespoons lemon juice
Preparation:
Put the oil in a wide medium sized pan and set over medium high heat.
When hot, put in the onions.
Stir and fry them until they are lightly browned. Add the garlic. stir and fry for another minute.
Now put in the mince, ginger, green chillies, coriander, cumin and cayenne. Stir and fry the meat for 5 minutes, breaking up lumps as you do so.
Add 175ml (6 fl oz) of the water and bring to a boil. cover, turn heat to low, and simmer for 30 minutes.
Add the peas, fresh coriander, salt garam masala, lemon juice and the remaining 125ml (4 fl oz) water. mix and bring to a simmer. cover and cook on low heat another 10 minutes or until the peas are tender.
Taste seasonings and adjust the balance of the salt and lemon juice if you need to.
Serve hot with garnishing.