Potato Kebabs
Rating: 3/5 - Votes: 11 - Views: 41691
Potatoes or Aloo is a universal favorite n these potato kababs r the tastiest replacement of meat if u r tired of eating Shami kababs.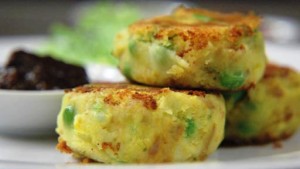 ---
Total servings:
2-3
Calories:
Pre-Prep time:
10 min
Preperation time:
10 min
Occasion:
Any
Cuisine:
Pakistani
Effort:
Average
Best for:
All
How to serve:
Hot
---
Ingredients:
1 lbs Potatoes Red medium
2-3 Green Chilies(medium)
A bunch of Cilantro
1 Tbsp Cumin seed
2 oz Pomegranate seed dried
2 Eggs
1 tsp Red Chili powder
1 tsp Salt
14 oz Butter Solids -OR- 2 Tsp vegetable oil
Preparation:
Gather ingredinets.
Cut green chilies & cilantro.Melt butter.
Put the potatoes with water for boiling (water should barely cover potatoes)
Check the doneness of potatoes (use a knife).
When potatoes are done, remove from heat and peel them.
Put in freezer for 5 minutes.
Remove from freezer. Mesh them coarsely. (you can use hands)
Add salt, red chilies, green chilies, pomegranate seeds, cumin seeds & cilantro leaves and mix well.
Crack and mix two eggs in a steel bowl.
Put melted butter or oil in a fry pan and put on medium heat.
Take even portions of potato mix to make 2 inch rounds using hands
(grease palms of both hands so that potato won't stick to hands)
Flatten these 2 inch balls to make kebabs.
Coat kebabs with eggs and put in frying pan.
Change side after 5 minutes.
These kebabs may be served with 'chutni' or 'raita'
Makes 5 Kebabs