Podina Chutney
Rating: 5/5 - Votes: 1 - Views: 28434
Pudina (mint) has excellent medicinal properties and including pudina chutney in everyday meal is very good for health.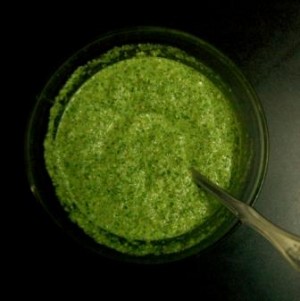 ---
Total servings:
Calories:
Pre-Prep time:
Preperation time:
Occasion:
Ramadan
Cuisine:
Pakistani
Effort:
Easy
Best for:
All
How to serve:
Cold
---
Ingredients:
1 bunch Mint
1 oz Green Chili
1 tsp Salt
1 oz Pomegranate Seeddried
32 oz Yogurt
4 Tbsp Water
Preparation:
Gather ingredients.
Remove stems from green chilies.
Wash mint and remove leaves.
Blend together mint leaves, green chilies, salt and pomegranate seeds in an electric blender to make a paste.
Add water to make a smooth paste.
Remove from blender and mix in yogurt.
* Makes 36 ounces of chutney
* Serve in 2 or 4 ounces