Pepper Rice With Lemon Olive Chicken
Rating: 5/5 - Votes: 2 - Views: 18642
Tender chicken and rice cook in an aromatic broth generously seasoned with lemon, olives, pepper and herbs etc.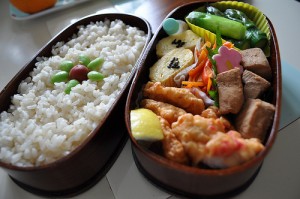 ---
Total servings:
4
Calories:
Pre-Prep time:
Preperation time:
1 hour
Occasion:
Any
Cuisine:
Pakistani
Effort:
Easy
Best for:
All
How to serve:
Hot
---
Ingredients:
250 gms. basmati rice
1 red pepper, halved and cored
4 tbsp. extra virgin olive oil
3 cloves garlic crushed
Juice of 1 small lemon
Leaves from 2 sprigs fresh thyme
350 gms. skinned, boneless chicken breasts
600 ml. stock or water
3 spring onions, sliced thinly
3 tbsp. fresh chopped coriander or parsley
Handful black olives stoned
Slices of avocado to garnish
Salt and ground black pepper.
Preparation:
Heat a grill until very hot, then grill the pepper halves, skin side up, until blackened.
Cool, then peel off the skin. Slice the peppers in thin strips and toss in one tablespoon of oil.
Mix two teaspoons of oil with the garlic, lemon juice and thyme then spoon into a large polythene bag.
Cut the chicken into strips and pop into the food bag, rubbing the marinade in well. Chill for an hour.
Simmer the rice mix with the stock and salt to taste in a medium saucepan, covered for 20 mins.
Allow to stand for 3 mins. before uncovering and forking through the remaining oil.
Mix in the pepper strips, spring onions and the chopped herbs.
Mound on to a platter and cook the chicken strips about 3 mins. each side until well browned and cooked.
Serve with the rice garnished with fresh herbs, olives and avocado.