Paneer Kofta And Kabab Biryani
Rating: 4.5/5 - Votes: 4 - Views: 16204
A fancy rice dish in which rice are accompanied with festive paneer koftas and kababs.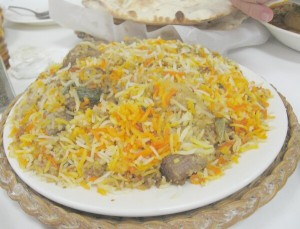 ---
Total servings:
5-6
Calories:
Pre-Prep time:
Preperation time:
1 1/2 hour
Occasion:
Any
Cuisine:
Pakistani
Effort:
Average
Best for:
All
How to serve:
Hot
---
Ingredients:
For Rice :
1/2 cup ghee
1" piece ginger
1 medium onion, chopped
6 cloves garlic
8 cloves
2 pieces cinnamon
2 bay leaves
8 cardinals
2 cups basmati rice
4 cups water
2 tsp. salt.
For Koftas :
1/2 tsp. gramflour
1 grated paneer
1 tsp. grated ginger
2 finely chopped green chillies
salt to taste and oil for frying
For Kabab :
1 kg. kheema
10-12 green chillies
2 tsp. gingergarlic paste
2 onions
2 tomatoes
1 tsp. red chillies
1 tsp. turmeric.
Preparation:
Portion the kheema for kababs and for kabab curry.
Boil kheema in ginger/garlic paste.
Add green chillies and salt to it. Cook until it gets dry.
Prepare balls and deep fry them.
For the Curry :
Take remaining kheema. Add green chillies paste, red chilli powder and keep it aside for 1015
mins.
Prepare balls. In a pan, put little oil, add jeera. Then add onions and fry them until pink.
Then add tomatoes, red chilli powder and turmeric and cook until it leaves the edges of the
pan.
Then add water and cook masala.
Then add prepared balls and cook until the gravy becomes thick.
Note : Drain water before preparing kababs.
For Rice :
Grind onion, ginger and garlic to a paste. Heat ghee and add ground paste to it.
Fry until it turns light brown. Add the spices. Fry for a minute and then the rice, water and
salt.
Cover and cook till the rice is tender.
For the koftas. Roast gramflour to a golden brown.
Knead paneer, gramflour, ginger and green chillies to a smooth dough.
Make 20 equal sized koftas. Deep fry till light brown.
Final Stage :
Fluff the rice with a fork and remove whole spices.
Add koftas and toss gently.
Put gravy in the centre of the plate and garnish with koftas and fried kababs.