Palak (Spinach) Rice
Rating: 5/5 - Votes: 1 - Views: 18025
A delightful Spinach, Cheese and rice blend in palak rice goes exceptionally well with anything. An easy yet healthful rice recipe.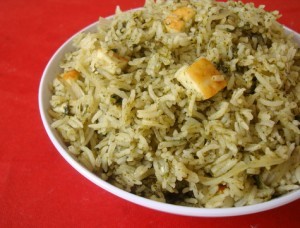 ---
Total servings:
4
Calories:
Pre-Prep time:
Preperation time:
40 min
Occasion:
Any
Cuisine:
Pakistani
Effort:
Easy
Best for:
All
How to serve:
Hot
---
Ingredients:
3 bunches Spinach
1 Onion
1 tsp Ginger/Garlic paste
3 nos. Green Chilies
All spice powder (whole masala preferred)
1 cup Cottage Cheese (fried cubes)
2 tbsps. Vegetable Oil
2 cups Rice (basmati)
1 no. Lemon
1 tsp. Cumin Seeds
Preparation:
Cook rice in regular way.
Boil spinach, drain and make its puree
Heat oil in a pan and temper some cumin seeds with whole garam masala.
Add and fry onions till it is light brown
Add ginger, garlic and chili paste in it and fry for another minute.
Add spinach puree prepared earlier and cook till the oil separates. Season with salt and lime juice and cook for 2 to 3 minutes.
Finally, fold this mixture nicely into the cooked rice.
Add fried paneer cubes into the mixture and let it stand for 10 minutes before serving.