Lamb Shish Kebab
Rating: 4/5 - Votes: 9 - Views: 34433
These Lamb shish kebabs are easy to make and are very tender.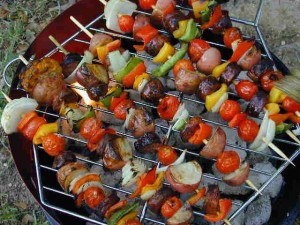 ---
Total servings:
4-6
Calories:
Pre-Prep time:
Preperation time:
15 min
Occasion:
Any
Cuisine:
Pakistani
Effort:
Easy
Best for:
All
How to serve:
Hot
---
Ingredients:
500 g Minced lamb
2 tbs Finely chopped corriander
2 Onion, finely chopped
1 tsp Turmeric
Salt and pepper 1 teaspoon
Onion and green corriander for garnishing (chopped)
Preparation:
Mix all the ingredients together, seasoning with salt and pepper to taste.
Roll the mixture in to thin sausage shapes and cook under a preheated moderate grill for about 1o minutes, turning several times.
Serve garnished with green corriander and onion crushed.