Lamb Biryani
Rating: 4/5 - Votes: 2 - Views: 28305
Biryani is a rice-based dish eaten in the Middle East and South Asia that consists of meat, vegetables, spices and yogurt. Lamb Biryani is among the most popular dishes in the subcontinent... colorful and delicious !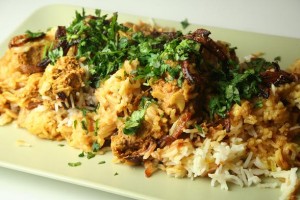 ---
Total servings:
4
Calories:
Pre-Prep time:
Preperation time:
1 hour
Occasion:
Any
Cuisine:
Pakistani
Effort:
Average
Best for:
All
How to serve:
Hot
---
Ingredients:
1/2 cup plain Yogurt
2 Cloves Garlic, minced
1/8 teaspoon cayenne
1/2 teaspoon ground Cumin
1/4 teaspoon freshground black Pepper
1 3/4 teaspoons Salt
1 pound boneless lamb cut into 1/2inch cubes
3 tablespoons Butter
1 onion, cut into thin slices
1/4 teaspoon ground cardamom or ground coriander
1/4 teaspoon turmeric
5 cloves
1 Cinnamon stick, broken in half
1 1/2 cups long grain rice, preferably basmati
2 3/4 cups water
1/3 cup Raisins
1/3 cup chopped cashew nuts
Preparation:
In a medium bowl, combine the Yogurt with the Garlic, cayenne, Cumin, black Pepper, and teaspoon of the salt. Stir in the lamb.
In a large saucepan, melt the Butter over moderate heat. Add the onion and cook until starting to soften, about 3 minutes. Stir in the cardamom, turmeric, Cloves, Cinnamon, rice, and the remaining 1 teaspoons salt. Cook, stirring, for 1 minute.
Add the lamb mixture to the pan.
Stir in the water and raisins. Bring to a simmer. Cover and simmer until the rice and lamb are almost done, about 20 minutes.
Remove from the heat. Let stand, covered, until the rice and lamb are just done, about 5 minutes. Stir in the cashews.