Imli Chutnee
Rating: 4/5 - Votes: 4 - Views: 29827
TAMARIND or imli chutney is the exotic sweet and sour chutney. This chutney can be called the ketchup of the east!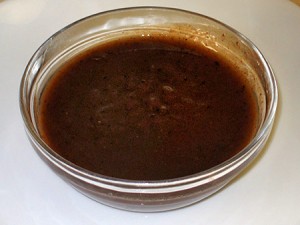 ---
Total servings:
Calories:
Pre-Prep time:
Preperation time:
Occasion:
Ramadan
Cuisine:
Pakistani
Effort:
Easy
Best for:
All
How to serve:
Not Sure
---
Ingredients:
3 tablespoons dried tamarind pulp
l cup hot water
1 teaspoon salt
2 teaspoons black or brown sugar
l teaspoon ground cumin
half teaspoon ground fennel
2 teaspoons finely grated fresh ginger
lemon juice to taste
pinch chili powder, optional
Preparation:
Put tamarind pulp in a bowl with hot water and allow to soak until water is cool.
Knead and squeeze pulp away from the seeds. until it is dissolved in the water, then strain through a fine nylon sieve, pushing all the pulp through.
If necessary, add a little more water to assist in getting all the pulp from the seeds.
Add salt, sugar and other ingredients to the tamarind and stir to mix well. Taste and add more salt if necessary, lemon juice to sharpen the flavor and if liked, a small pinch of chili powder. Imli chutney is reaady ENJOY!