Harira
Rating: 5/5 - Votes: 3 - Views: 37303
How about a bowl full of soup to break a fast? the soup which spells flavor & sensations! Bursting with sense awakening taste with every spoonful.HARIRA The Traditional Moroccan Soup usually served during the month of Ramadan to break the fast.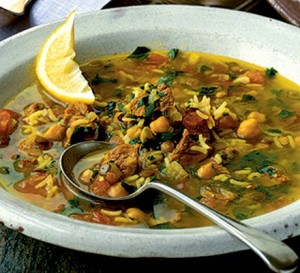 ---
Total servings:
5-6 Servings
Calories:
Pre-Prep time:
Preperation time:
30 Min
Occasion:
Ramadan
Cuisine:
African
Effort:
Easy
Best for:
All
How to serve:
Hot
---
Ingredients:
2 Tablespoons butter
1 stalk celery, chopped
2 onions, chopped
1 15oz. can chickpeas
1 15oz. can crushed tomatoes
1/4 teaspoon turmeric
1 teaspoon ginger
1/2 teaspoon cinnamon
1 Tb. tomato paste
1 Tb. salt
1/3 cup rice
2 Tablespoons flour mixed to paste with 1/2 cup water
1/2 cup chopped fresh parsley
1/2 cup chopped fresh cilantro
2 Tablespoons lemon juice
1 large lemon, cut in 6 wedges
1/2 lb. lean lamb cut into small pieces (optional)
Preparation:
Melt butter in large saucepan and gently saute celery and onions for 3-4 minutes.
If using lamb, add next and brown it.
Add chickpeas and their liquid, tomatoes, turmeric, ginger, cinnamon, tomato paste, salt, and 2 quarts of water.
Bring to boil, simmer for 10 minutes.
Add rice.
Simmer for 15 minutes or until rice becomes tender.
Add some of hot liquid to flour paste and stir till smooth.
Pour this mixture into the soup and bring to a simmer again.
Cook for another 15 minutes. Add parsley, cilantro, and lemon juice.
Adjust salt seasoning and serve with lemon wedges.