Handi Biryani
Rating: 4/5 - Votes: 5 - Views: 24436
Delicious Biryani cooked in a traditional and authentic style.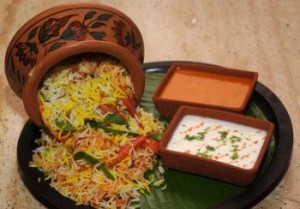 ---
Total servings:
8
Calories:
Pre-Prep time:
30 min
Preperation time:
1 hr
Occasion:
Any
Cuisine:
Pakistani
Effort:
Average
Best for:
All
How to serve:
Hot
---
Ingredients:
1 1/2 cups Long grain rice
2 Potatoes quartered boiled
2 Capsicums cut into strips
2 Onions chopped into strips
2 Onions quartered
1 tsp Ginger grated
2 Tomatoes Chopped
1 tsp Garlic grated
1 cup Curd
2 Bay leaves
2 Cloves
1" Cinnamon Stick
2 Cardamoms
4 or 5 Whole Black Peppers
1 tsp Red Chilli powder
1 tsp Garam Masala
1/4 tsp Turmeric powder
2 or 3 pinch Asafetida
Salt to taste
1 tbsp Lemon juice
1 tbsp Coriander chopped
10 to 15 Cashews
10 to 12 Almonds sliced to flakes (optional)
4-5 tbsp Kisan Ghee
Preparation:
Wash and soak rice in salted water for 30 mins.
Heat ghee in a heavy saucepan. Fry onion strips till crisp, brown, drain, keep aside. Fry cashews till light brown, drain, keep aside.
Fry capsicums till tender, drain, keep aside.
Meanwhile, heat 6 cups water in a large vessel.
Add bay leaves, peppers, cloves, cinnamon, cardamoms, salt. When it comes to boil, drain and add rice. Bring to boil, cook for 89 minutes, till rice is just but not fully done.
Drains in a large colander, spread in a big plate, cool.
Grind quartered onions, ginger, garlic to a paste. In hot ghee, add paste stir fry for 2-3 mins.
Add all powdered masalas, tomatoes, mixed vegetables, stir, cook till fat separates. Beat curd, add stir till the boil resumes, cook for 2-3 mins. Add potatoes, stir, keep aside.
TO FILL HANDI :
Grease an oven proof handi well on the inside. Place in half of rice, spread at the bottom. Top with half vegetables layer, spread over rice.
Mix together fried onions, capsicums, cashews, sliced almond, coriander. Sprinkle half over vegetable layer.
Sprinkle half lemon juice all over.
Repeat rice to lemon juice layer by layer.
Either covers with fitting lid, seat edges with chappati dough, or seat op with a tightly packed foil sheet.
Make a small slit for excess steam to escape.
Bake in a preheated oven at 130 degrees for 15-20 mins.
Break seal at the table to get the most out of the aroma.
Note: If handi not available use a deep, heavy saucepan.
For a stronger flavored biryani, mix in some powdered mace, nutmeg into rice before transferring to handi.