Flaky Shepherd'S Pie
Rating: 4.5/5 - Votes: 4 - Views: 15861
A traditional meat based dish with a topping of mashed potatoes.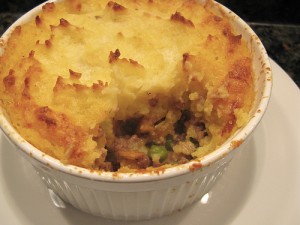 ---
Total servings:
6-8
Calories:
Pre-Prep time:
Preperation time:
1 HR APPROXIMATELY
Occasion:
Party
Cuisine:
American
Effort:
Average
Best for:
All
How to serve:
Hot
---
Ingredients:
2 CUPS BOILED MACRONI
1/2 KG MINCED MUTTON
TOMATO KETCHUP 1 CUP
1 TOMATO
1 TBS GINGER GARLIC CRUSHED
SALT
RED CHILLIES
2GREEN CHILLIES
OIL 1/4 CUP
4 BOILED POTATOES
I CUP MILK
SALT ACCORDING TO TASTE
BLACK PEPPER ACCORDING TO TASTE
WHITE SAUCE
FLOUR 1 CUP
BUTTER 5 TABLESPOONS
MILK 2 CUPS
GRATED CHEDDAR CHEESE 1/2CUP
EXTRA GRATED CHEESE 1 CUP.


Preparation:
FRY THE MINCED MEAT WITH RED CHILLIES, SALT, ONION, TOMATO, GREEN CHILLI, GINGER, GARLIC UNTILL MEAT IS COOKED. KEEP ASIDE WHITE SAUCE.
MELT BUTTER,ADD FLOUR FRY UNTILL LIGHT BROWN,ADD MILK AND CHEESE AND MAKE INTO A SMOOTH PASTE.
KEEP ASIDE POTATO PASTE BOIL THE POTATOES, MASH WITH MILK, SALT PEPPER, UNITILL A THICK LIQUIDY PASTE FORMS.
IN A LARGE DISH MAKE A LAYER OF MACRONI, THEN TOMATO KETCHUP, THEN MEAT, THEN WHITE SAUCE, THEN POTATO PASTE AND THE LAST LAYER WITH GRATED EXTRA CHEESE.
BAKE IN AN OVEN FOR 10/15 MINS UNTILL THE CHEESE MELTS AND BECOMES CRISPY BROWN.
SERVE HOT.