Chicken Mushroom Rice
Rating: 3/5 - Votes: 4 - Views: 22822
Tasty Chicken Mushroom rice recipe, loaded with all the flavors of fish, shrimps, chicken and other spices. Its easy to cook and makes a best dinner.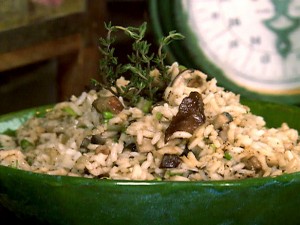 ---
Total servings:
4-5
Calories:
Pre-Prep time:
15 min
Preperation time:
30 min
Occasion:
Any
Cuisine:
Pakistani
Effort:
Easy
Best for:
All
How to serve:
Hot
---
Ingredients:
Long grain white rice 2 cups.
Vegetable oil 2 tbsp.
Onion, small, finely chopped 1 no.
Garlic cloves, finely chopped 2 nos.
Red chilies, seeded and cut into slivers 2 nos.
Chicken breast meat, finely chopped 225 gms.
Bamboo shoots, chopped or cut into matchstick strips 85 gms.
Chinese black mushrooms, dried, soaked for 30 minutes, drained and chopped 8 nos.
Shrimps, dried 2 tbsp.
Fish sauce 1 tbsp.
Basil leaves 25 nos.
Basil sprig to garnish
Salt As required
Preparation:
Cook rice.
Heat oil in a wok, and add onion and garlic.
Cook, stirring occasionally, until golden.
Add chilies and chicken and stir fry for 2 minutes.
Stir in bamboo shoots, mushrooms, dried shrimps, fish sauce and salt.
Continue to stir for 2 minutes, then stir in the rice and basil.
Serve garnished with basil sprig.