Chicken Cheese Rolls
Rating: 4/5 - Votes: 7 - Views: 32963
These rolls can be prepared a head and you can always freeze them. Just thaw them in microwave and deep fry before serving.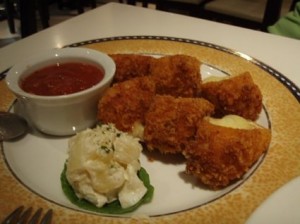 ---
Total servings:
6
Calories:
Pre-Prep time:
Preperation time:
30 mins
Occasion:
Any
Cuisine:
Pakistani
Effort:
Easy
Best for:
All
How to serve:
Hot
---
Ingredients:
Bread slices 6 pcs
Cheese slices three Cut in the middle
Green peas boiled 1/2 cup
Boiled chicken pieces 1/2 cup
Egg 1 pc
Bread crumbs 1 cup
Oil to deep fry
Salt n pepper according to taste
Large bowl filled with water
Preparation:
Cut away the brown corners of each bread(can be used to make breadcrumbs).
Mix together green peas, chicken pieces, salt & pepper.
Now soak each bread in the water bowl only for few second.
Squeez between palms to drain away the water in the bread.
Now place a 1/2 cheese slice in the middle of the wet bread.
Place 1 tbsp of the green peas and chicken in the middle (elongated shape).
Fold around the sides of the bread to make a roll covering cheese and mixture inside.
Dip in beaten egg, roll in crumbs and deep fry.
Serve hot with ketchup.