Carrot And Coriander Soup
Rating: 4/5 - Votes: 6 - Views: 16473
A flavoursome healthy soup with fresh green coriander. Serve with cheese and onion bread for a warming supper or lunch.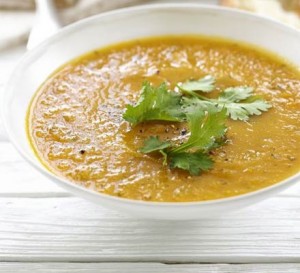 ---
Total servings:
4-5
Calories:
Pre-Prep time:
Preperation time:
30 min
Occasion:
Any
Cuisine:
Pakistani
Effort:
Easy
Best for:
All
How to serve:
Hot
---
Ingredients:
650 gms of carrots
2 bay leaves
1 medium sized onion
1 tspn of peppercorn
6-8 cloves of garlic
1200 mls of water
1 packed cup of green coriander
1 tspn of white pepper powder
2 tblspns of butter
Salt to taste
Preparation:
Wash, peel and roughly chop carrots. Peel and chop onion and garlic.
Wash and finely chop fresh coriander leaves and reserve the stems.
Heat butter in a pan, add bay leaves, peppercorns, onions and garlic and fry for two minutes.
Add carrots, coriander stems and water and bring to a boil. When carrots are completely cooked, remove them and put in a blender to make a fine puree.
Reduce the stock slightly by boiling and strain.
Take the puree in a pan and add strained stock to reach the desired consistency. Bring to a boil again.
Add white pepper powder dissolved in a little water.
Add salt to taste. Stir in finely chopped fresh coriander leaves.