Aaloo Kay Kabab
Rating: 4/5 - Votes: 10 - Views: 49907
These kababs can be served as appetizers, snacks, as a side dish or even can be placed in bugers.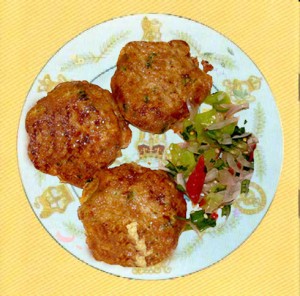 ---
Total servings:
10-12
Calories:
Pre-Prep time:
Preperation time:
1 hr
Occasion:
Any
Cuisine:
Pakistani
Effort:
Average
Best for:
All
How to serve:
Hot
---
Ingredients:
1 pound 1/2 Kg Potatoes.
1 bunch Fresh coriander(hara dhania)
Salt to taste.
2 tea spoons Red chillies.
2-3 medium Green chillies.
1 small Onion.
1 tea spoon ground Corriander (Pisa houa shookha danya).
1 Egg for coating.
Oil for frying.
Preparation:
Boil potatoes.
Mash them and add salt, red chillies and coriender ground.
Cut onions in very small and thin pieces.
Also cut/chop green chillies and hara dhanya.
Add them into the potatoes and mix all ingredients well.
Then make small kababs and dip them into the egg and fry on low heat till they turn golden
brown.
Now serve them with cucumber, tomatoes and onion salad with lemon juice added and immli ki
chatni.