Adraki Jhinga
Rating: 3/5 - Votes: 5 - Views: 18234
Sauted Prawns or shrimps marinated in ginger and green chillies.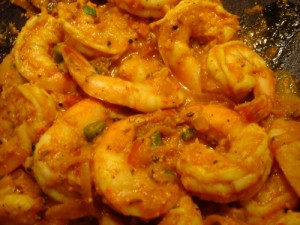 ---
Total servings:
4-5
Calories:
Pre-Prep time:
Preperation time:
30 min
Occasion:
Any
Cuisine:
Pakistani
Effort:
Easy
Best for:
All
How to serve:
Hot
---
Ingredients:
16 Prawns (headless)
1 tbsp Ginger paste
2 tsps Green chilli paste
1 tsp Salt
2 tbsps Lemon juice
3 tbsps Oil
For peanut dip:
1 cup Peanuts (roasted)
1 tsp Cumin seeds
1 tsp Mustard seeds
3 Red chillies whole
1 tbsp Oil
1/2 small sized Onion (finely chopped)
1 inch piece Ginger (finely chopped)
1 tsp Tamarind paste
1/2 cup Coconut milk
Preparation:
De vein prawns and remove the shells keeping the tails intact.
Wash thoroughly and pat dry.
Apply salt, lemon juice, ginger, green chilli paste to the prawns and keep aside for fifteen minutes.
Heat oil in a shallow frying pan and cook marinated prawns for two minutes. Do not over cook prawns as they tend to become tough and rubber like. Drain onto an absorbent paper.
For peanut dip, peel dry roast cumin seeds, mustard seeds and whole red chillies.
Grind these and roasted peanuts to a fine paste by adding half cup of water. Heat oil in a pan, add chopped onion and ginger.
Saut till onions become soft and change colour slightly.
Add peanut paste and cook on a medium heat for a minute.
Add tamarind paste dissolved in a little water to this and cook for a few minutes.
Add salt and mix well.
Stir in coconut milk and simmer for five minutes.
Serve this dip with sauted prawns.